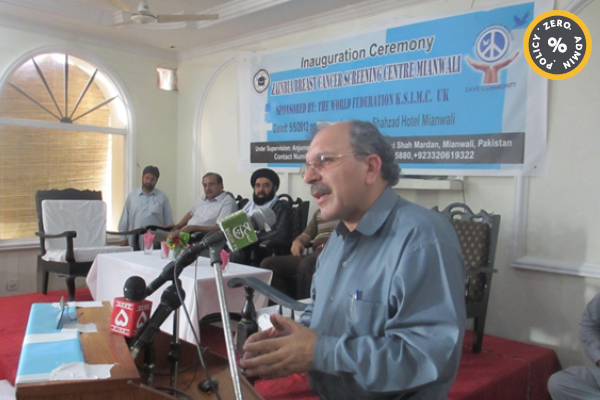 Zainabiya Specialist Healthcare Centres
---
With our Zero% Admin Policy, all of your donation will go towards supporting this appeal.
---
INDIA
Lucknow (Surgeries and Specialist care)
The centre works hard to improve and enhance the quality of life for its patients in an area  where illness was once thought of as a life sentence. The centre provides specialist care  where necessary and The World Federation pays for the cost of treatment, medication,  transportation and accommodation in full.
PAKISTAN
Mianwali (Specialist Breast Cancer Centre)
The Zainabiya Breast Cancer Screening Centre was established in Mianwali in May  2012. The centre aims to bring about awareness of breast cancer through seminars, local  newspapers, cable network and the local FM Radio station. The centre organises medical  camps in different parts of Mianwali to detect breast lumps in women and those women who  are found with breast lumps are offered a mammography and FNA (Fine Needle Biopsy) to  diagnose the nature of the lumps. The Breast Screening is done at no cost to the women.
The Zainabiya Breast Cancer Screening Centre has been a huge success and has already  picked up a large number of patients with breast cancer in the 8 months that it has been  operational.
Mianwali (

Zainabiya Diagnostic Centre)
Due to high costs for diagnosis in Mianwali, The WF saw a need to open up a diagnostic centre which will offer the same services at cheap and affordable prices so that the local people could have good quality tests at a nominal price. Hence Zainabiya Diagnostic Centre in Mianwali, Pakistan was launched on 11th June 2013. Not only is this centre providing quality tests at nominal prices but with the income generated, it Is also supporting Zainabiya Breast Screening Centre by running free tests for them.
Parachinar (Zainabiya Thalassemia Centre)
The World Federation has in conjunction with Hussaini Foundation & Haideri Blood Bank &  Welfare Society established the Thalassemia Centre in Parachinar. The centre provides the f ollowing services: 
• Collecting test data in order to register details of thalassemia carriers Educating the  indigenous population on eradicating the prevalent local custom of consanguineous  marriages 
• Treatment of patients by highly skilled physicians in a state-of-the-art  facility.Providing pure and screened blood to needy patients 
• Offering 50% concession as compared to local market rates on all clinical tests.
• Imparting free medical facilities to those who cannot afford to pay Establishment of  a 'Poor Fund' 
• Organising a blood donor committee in each village of the Kurram Agency Setting up  blood banks in the remaining Tehsil headquarters of the Kurram Agency Supplying  ambulance services
Parachinar - Haideri Diagnostic Centre 
Parachinar forms part of an extremely volatile region that has been ensnared in the deadly grip of sectarian tension, bloodshed and violence in recent years, and that still continues to this day. It is the capital of Khurram Agency in the FATA [Federally Administered Tribal Areas] region, bordering the Tora Bora province in Afghanistan. The continued unrest in the area has meant that people from certain sects are categorically denied access to many healthcare centres in the region, thus compounding the hardships faced by people that are already inundated with calamities beyond endurance. We therefore considered it vital and of paramount importance that action be taken as swiftly as possible to equip these individuals with access to quality healthcare and therefore joined forces with the Hussaini Foundation and the Haideri Blood Bank & Welfare Society.
The Haideri Blood Bank & Welfare Society, established in 1996, operates the Haideri Diagnostic Centre in Parachinar. The Society has been actively involved with meeting the needs of our brethren residing in Parachinar and neighbouring areas for a number of years now, and has, as such, gained local repute, expertise and forged strong links with key notables, NGOs and humanitarian organisations. The Diagnostic Centre was however ill equipped due to insufficient funds. The WF donated equipment worth GBP 13,500.00 in 2011 which has greatly enhanced its abilities to serve those in dire need of aid.
Further projects across the globe are considered on a needs /request basis.
Select Currency
British Pound (GBP) (current currency)