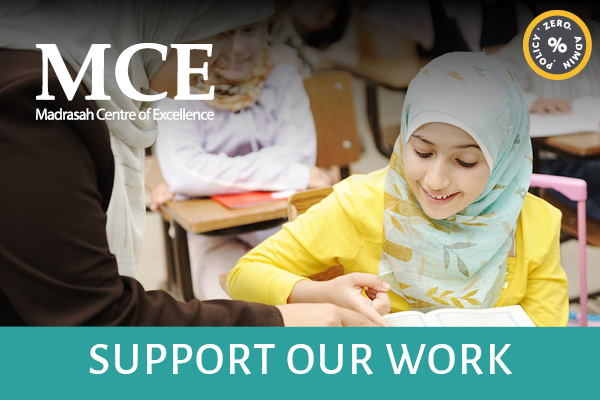 In order to continue our benevolent work, we rely on the support of our community to fund our programmes.

Our Tarbiyah Curriculum provides an effective learning platform for madrasah students, that follows the footsteps of the Ahlul Bayt (as) and instils values of the Holy Quran.

You can help MCE develop even further and gain sadaqah jaariyah (ongoing rewards) by giving the best Islamic education for the future generation.
---
With our Zero% Admin Policy, all of your donation will go towards supporting this appeal. 
---
HELP STUDENTS NOW
Tarbiyah Curriculum
towards learning material & resources required for a child for a year
£300 / $ 400 USD
DONATE NOW
---
Teacher Training
towards training resources for a madrasah teacher
£160 / $ 210 USD
DONATE NOW
---
Children are taught using the Tarbiyah curriculum, which covers  Aqaid, Fiqh, Ahlaq and Tarikh  in an integrated manner. They also get exposure to the Holy Quran at an early age through story books and develop a special and understanding of it when they are older. These core themes will help children to live an Islamic lifestyle following the footsteps of the Ahlul Bayt (AS).
---
"Nowadays, most of our children hardly have any contact with Islam in any part of their lives at school. To keep Islam close to their hearts and minds - it is our responsibility to send them to Madrasah regularly.
Madrasah is the main means of providing Islamic education to our children from a young age. We should therefore  endeavour to give them the best madrasah education so that they grow up as good and knowledgeable Muslims . "

Naushad  Mehrali
Head of MCE
---
HELP STUDENTS NOW
Your donations will help support  Curriculum Material,  Curriculum Production and  Teacher Training,  which provide a better education for our students. 


Provide Tarbiyah Curriculum Material for a child 
provide all learning material and resources for a child for 12 years of Madrasah
£3,600 / $4,700 USD
DONATE NOW

Train 25 Madrasah Teachers
provide all training resources including facilitators and facilities for 25 madrasah teachers
£4,000 / $ 5,200 USD
DONATE NOW 

---
"Allah does not hold the people of ignorance responsible for not learning, until He has held the people of knowledge responsible for not teaching."

Imam Ali (AS)
Select Currency
British Pound (GBP) (current currency)