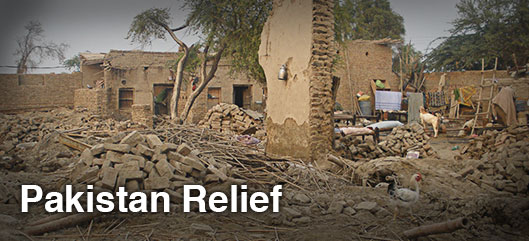 'If you are reduced to poverty, then trade with Allah (SWT) through giving in charity.' Imam Ali (AS)
Since 28 July 2010, heavy monsoon rainfall in north-west Pakistan has caused catastrophic floods in different rivers causing more then 1170 dead, misplacing thousands of families and damaging infrastructure. In the worst-affected areas, entire villages were washed away and thousands of people have lost everything. Over 3 million people would be affected and forecasters have predicted more rain in the upcoming days that will cause further devastation. This is the worst flooding in more than 80 years in Pakistan.
PAKISTAN FLOOD APPEAL 2010
The World Federation in partnership with The Africa Federation, the Council of European Jamaats and NASIMCO is launching the Pakistan Flood Appeal 2010. The displaced victims in Northern Pakistan are suffering and The World Federation of KSIMC is appealing to all communities around the world to donate generously. The World Federation has set a target to collect £ 80,000 for this appeal.
The World Federation is working with the Hussaini Foundation to explore the urgent provision of immediate relief and medium to long term assistance to the displaced victims. The Hussaini Foundation has already set-up its relief team and is sending out food parcels to the victims and has undertaken the following assessment in four key areas:
Baluchistan: The areas of Kachhi, Jaffarabad, Kohlu and Sibi districts are most effected hundreds' of mud houses have been washed out, road links are badly damaged.
Gilgit: Thousands peoples were rendered homeless as torrential rains hit Gilgit. Communication with the rest of the country was put to halt due to landslides from Gilgit to Skardu, Ghizer, Astore and Islamabad.
Azad Jammu and Kashmir: An emergency has been imposed in the upper areas of AJK following high-level floods in river Neelum. Muzaffarabad is affected and many river side houses are badly damaged. The relief efforts from governments and army are underway but an urgent need for food and medicine is needed.
Sindh: The government have alerted the local authorities to gear up and evacuate peoples from the expected affected areas. 
The Foundation is also undertaking a detailed assessment from its grassroots sources to evaluate the extent of damage to houses and property, but due to disruption caused by the devastation in the infrastructure and communications networks, this has been challenging. The long-term rebuilding of the affected areas could take several years because of the extent of the devastation.
The World Federation is deeply distraught and concerned about the devastation and loss of lives and strongly appeals to all donors to donate generously. Your contribution will make a great impact on the lives of all those who have lost everything, including their homes and their livelihood.
The momineen are also requested to remember the victims in your Duas.