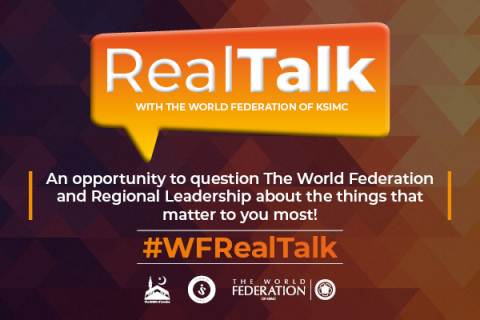 On Friday 23rd February, The World Federation held a Real Talk question and answer event, in conjunction with Stanmore Jaffery's Literary and Hujjat Islamic Centre as part of our Second Executive Council Meeting. This was an opportunity for the community to put their questions to the Office Bearers and Regional Leadership teams from across the community. 
The evening was split into two sections with the first having a panel formed of the Regional Leadership and the second being formed of The World Federation Office Bearers team.
The evening was very well attended and we were pleased to see so many people taking the opportunity to pose questions to the team. Speaking after the event, The World Federation's Secretary General, Shan E Abbas Hassam, said 'these sorts of events are exactly what we, at The World Federation, want to be doing more of. We want to connect with our grass root members and engage with them through open dialogue. It allows us to answer their questions and for them to have a voice to tell us what they want and expect from us.' 
---
The first panel was formed of the Regional Leaders and comprised of:
• The World Federation President - Anwarali Dharamsi 
• The World Federation Secretary General - Shan E Abbas Hassam
• India Federation Hon. Secretary - Ali Akbar Shroff
• Pakistan Federation President - Anver Rajpar 
• Pakistan Federation Hon. Secretary - Hassan Abdulhussein
• NASIMCO Vice President - Arif Jacksi
• COEJ President - Dr Akber Mohamedali
• AFED Chair - Shabir Najafi 
• FAC President - Hussein Hussein
They answered a number of questions on topics including:
Q. With a population of 120,000 to 150,000, there is potentially a great bank of information about our members which can be harnessed to drive the community forward.  What is the organisation doing to collect this data to help identify issues in the community, as well as understand what resources and assets we may have at our disposal? 
A. This is a project which was attempted back in 2006, but failed due to a lack of information regarding costs and operational issues. The President has identified this as a project which is of vital importance for the progress of our community. This is a big project which will require great planning and co-ordination. In some regions, the data is present but what is required is to ask these jamaats to forward the information to WF to start compiling the information. 
Q. Islamophobia, especially in the West, continues to rise, presenting a great challenge for many of our communities, some of which have been forced to migrate. What are the regional bodies doing to present a united front within the faith and reach out beyond the faith. 
A. We are trying to make sure our lecturers keep communication within the limits of sharia, and do not want to give statements that could cause offence or present challenges to the Muslim community in general. NASIMCO have built links with influential scholars and seek to propagate the Shia faith through chaplaincies, as well as use these institutions to respond to media outlets and play a role in current affairs. In India, the KSI community has maintained relations with the ruling party, BJP, to ensure that the community is treated fairly and has the right to express their faith openly. 
Q. Over the past decades, the global Khoja community has built up a wide portfolio of valuable assets, especially in real estate in African regions. What are the regional bodies doing to help the global KSI community to best utilise them? Also, how can we ensure the equitable distribution of these assets, considering that our Jamaats in the West have large populations but relatively few Jamaat owned assets?
A. (AFED) We do have a wide portfolio of assets across the globe, but they are difficult to transfer or sell as we would have to get permission from marje'. There is, however, an opportunity to turn these assets into liquidity. We are currently discussing a project which would involve creating a global consolidated bank sheet. By providing banks with this information, we would be able to obtain loans easily, without the need to put up collateral. This can be used to help us build boost underdeveloped communities and better facilities, such as housing and schools, for our members. We are also seeing reverse migration back to our African communities due to the entrepreneurial opportunities available. We need to further educate our communities on the vast entrepreneurial potential of Africa. Thus, it would be wise to retain assets in Africa as community members move back.
Q. What are we doing to help build entrepreneurial spirit across our communities? 
A: We have introduced several initiatives, such as the Khoja Business Leaders Summit to start bringing together the business skills across our global communities. We are looking to increase Khoja entrepreneur mentorship and provide the capital for start-up projects through a Khoja Dragons Den. We are open to more ideas and are actively looking to push forward in this area. We do have plans in the works, but cannot commit to have them ready for the next Exco.
Follow-up Q: Why not have specific schemes to help ladies build businesses?
A: We believe the better approach would be to have everyone under the same scheme, to prevent splintering and ensure the schemes are most effective. 
Q. What are you doing to promote female participation and address lack of female leadership in senior positions. 
A: First of all, we do accept this is an issue; we observe that most council meetings are male dominated. Increasing female participation starts at a jamaat level. Currently, we do not have equal rights for female members at grassroots level. The World Federation has passed a resolution to encourage female participation, which was passed down to regional bodies and across the chain. Whilst we admit that there is currently no active strategy, we are seeing progress in this area, for example Karachi jamaat have given full community rights to women, ensure female rights at parity with male rights.
The second panel was made up of The World Federation Office Bearers team, including:
• President - Anwarali Dharamsi
• Vice President - Shabbar Dhalla
• Secretary General - Shan E Abbas Hassam
• Assistant Secretary General - Mahmood Dhala
• Treasurer - Mohamedkazim Bhaloo 
• Assistant Treasurer - Muntazir Bhimji
This panel answered questions more directly applicable to The World Federation including: 
Project North Star and Youth Engagement 
Q. What is WF doing to tackle the situation where our communities are being bombarded with a wide range of Islamic information and advice and guiding our communities, especially the youth, towards the right path? 
A. One of our key functions as the WF is to maintain and build spirituality and knowledge of the Shia faith in our communities. During the PNS project, the issue you have mentioned came up as the prime concern our community members have. The Islamic Education journey begins at a young age. We have therefore embarked on creating MCE, a modern curriculum which can be rolled across all our regions. The project was funded and taken on by regions. We have also appointed Dr Alidina as our Head of IE, with the view of harnessing greater spirituality. Furthermore, we are working to create a network of scholars to provide greater guidance and share information to fellow scholars and thus the community. 
Q. Should we be focusing solely on Khoja communities or looking beyond this and focus on aiding the Shia community in general. 
A. WF was created to support and facilitate Khoja communities, constitutionally and objectively. This remains our primary aim. However, we have started to provide aid throughout the Shia world, especially through WF-Aid.
Q. What does our NGO status mean? How much have we contributed to the NGO, and how much have we benefitted from the NGO?
(This question was answered by Shabbir Lakha as he was instrumental in helping us gain this status.)
A: It is a status with ECOSEC with the UN which is a special recognition. The potential is great due to the status we have with the UN, which we can leverage in various areas, such as Shia genocide, but there is certainly more that we can do. 
The original objective of gaining this status was not just to benefit financially but look to harness the potential multiplier effect. We used to invest a dollar, get a dollar in returns. By working with key strategic international bodies, we can make that dollar go further. We need to have a multiplier effect in the political work and affect policy changes on a global level. We need to tailor our effect in different regions by developing a multi layered strategy for different regions. It takes us from an insular community to an outward looking community. It prevents us from being complacent and constantly challenges us to upgrade our operations. We become global partners, can stress test global institutions. To what extent the community wants to have accelerated change is a political issue. We did not previously have the political will 10 years ago. Every year, we have capital flight towards the Middle East. People do not give the funds to us because they do not have confidence in us. Donations follows confidence. We need to ask hard questions. Why is it our biggest donors in Europe do not donate to us? 
Q. Do u recognise value leakage? How significant and what are we doing about it?
A: It is one of our biggest issues, as identified by the previous and current committees. Money will follow good reports and confidence in the institution. The team has started this journey. We do not yet have all the answers but are working towards them. When the new treasury team came in, the team actively started to look at how WF can improve to leverage the leakage. 
Why are people not donating? There is a lack of donor engagement, we need to show donors progress and vision of organisation. We have not been great at telling the public what we do. For example, our Yemen project where we did huge work to move communities, resettling 520 people. We haven't been able to tell people about this, so we have started improving our marketing department. We need to clarify our vision to the donor base; PNS helps with this. 
We are currently in an embryonic stage, talking to regionals to see how we can work together better. Needs are now being met, value is being created. We have started to create an affinity with beneficiaries. Progress is taking place. We are picking up the roots of value creation. It takes years to turn things around, but we can do more. 
Project North Star and Youth Engagement 
Q. What actions are being taken by the leadership to implement the fantastic work done by the PNS team?
A. The recruitment cycle for a Transformation Manager has been undertaken and we have filled this role. There has been a delay due to the hiring process. The PNS action plan needs to be approved by the Exco. 
Q. If this body is going to work like a Jamaat, i.e. voluntarily, do you believe that we need to employ leadership rather than volunteering?
A: The PNS project has recommended some steps which will be taken on in terms of organisational change, but it takes time; it is the vision. The Transformation Manager has been employed, the process will take time. 
Q. What is WF doing in regards to health and global environmental activities?
A. In terms of improving our environmental impact, we are working to provide more awareness on the issues, such as reducing the number of cups used by our centres in Ramadhan. As part of our policy, we are tacitly supporting jamaats with environmental work. 
Our attitude towards community health has always been very reactive. Now, we are looking to be more pro-active, such as through the fitness initiative with Mahmood Mawjee. This was taken from a jamaat level in Stanmore to global level. In Europe, there is working being done on prevention and awareness. More needs to be done. 
Q: With a growing need for Muslim oriented care homes, what is being done for the elderly?
A: It is at the top of the agenda; we have just tried to bid with COEJ for a home in Stanmore, but the project failed initially simply due to commercial reasons. We are actively looking for projects in this area and are open to proposals.