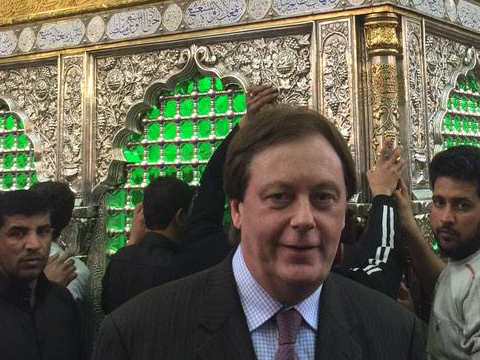 His Excellency, Mr Francis Raymond Baker, the U.K Ambassador to Iraq on his most recent trip to the country traveled to the holy city of Najaf.
During the course of his trip, Ambassador Baker had the opportunity of meeting some distinguished personalities such as the Governor of Najaf, Adnan al-Zurfi, to discuss politics and economics. 
In addition to this, He also had the pleasure of visiting the Secretary General of the shrine of Imam Ali (a.s) - his Eminence Sheikh Dhiauddin Zainuddin - to discuss ways to improve global cultural links.  
The Ambassador had the honour of visiting the Shrine of Imam Ali (a.s.) after which he stressed the universality of Imam Ali (a.s.)'s teachings, quoting the famous saying of Imam (a.s.): "A person is either your brother in faith or your equal in humanity."
Students studying in Hawza in Najaf including many from the U.K. had the opportunity to meet the Ambassador and talked to him about their aim of returning home and spreading the true teachings of Islam to counter the many misconceptions currently abound.
All Photo Credits: Frank Baker - Twitter: @FrankBakerFCO