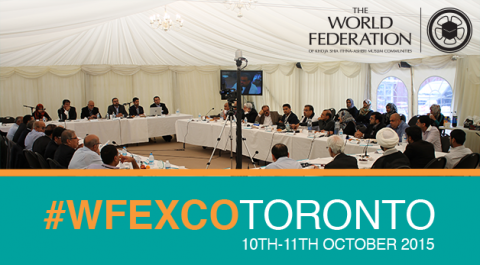 On 10th October 2015, The World Federation's Fourth Executive Council (EXCO) meeting for the term 2014 – 17 will take place in Toronto, Canada.  We are looking forward to meeting the community and discussing the work the organization has been involved in over the last year.
All members of the community are invited to attend and the main EXCO meeting will take place on Saturday 10th October 2015 from 9am and a special event with the community on Sunday 11 October 2015 at 10am.
For the EXCO meeting, we will have two very special guest speakers - Sayed Ammar Nakshwani and Miqdaad Versi. Sayed Ammar will inshAllah be talking about the Imam Ali chair at Hartford Seminary and Miqdaad will be giving his input on media and external affairs.
The event on Sunday  is entitled 'Is attacking Muslims the latest acceptable form of bigotry?'.  The event has a number of key note speeches and also gives the community an opportunity to speak to The World Federation team.
Both events will be held at the Jaffery Community Centre, 9000 Bathurst Street, Thornhill, Ontario, L4J 8A7, Canada.
Please also follow our live updates on our Facebook, Twitter and Instagram pages.
We look forward to hearing from you and meeting you in Toronto!