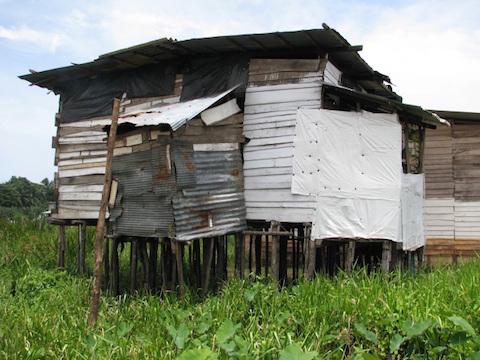 "Oh Allah! Give dignity and peace of mind to the elderly." Imam Mahdi (AS)
MEET KHATUN BEGUM
Khatun Begum is an elderly widow who lives with her daughter and son-in-law.  She suffers from a heart condition and underwent throat surgery a few years ago. As a result she must visit her doctor each month for treatment and medication.  Despite her illnesses, Khatun Begum looks after her grandson and also assists with whatever household chores she can.
Her daughter does not work full time; instead she relies on shifts given to her when local factories require extra employees.  With the rising cost of food, she and her husband are finding it difficult to manage the household expenses let alone look after her mother's needs.  
The living conditions of this family are dismal to say the least.  They live in an area of marshy land.  This land is first filled with debris and a house is built on top.   Most of the homes here are built with wood planks and zinc sheets to make up the roof. During the day the homes become unbearably hot. During the rainy season, most of these homes are flooded with water and families are forced to move out and seek shelter in local community centres and schools until the flood waters recede. 
The SOS program provides Khatun Begum with a monthly income supplement to help cover some of her medical expense.
WHAT IS SOS?
The Al-Qa'im Sponsor Our Seniors (SOS) Program was launched in the name of Imam-e-Zamaana (AS).  Imam Al-Mahdi's (AS) title, 'Al Qa'im' is a reminder to us all of our duty to rise and give hope to those who live in despair. The SOS Program provides seniors living in abject poverty with a monthly income supplement to help meet their living expenses, giving them the opportunity to age gracefully.
Today, a senior is wondering where his/her next meal is going to come from. Another elder is forced to choose between food and medication because of lack of funds. These are the kinds of everyday problems many of our elders are facing. Often times, these seniors have no family to turn to for help, and end up suffering in silence, alone and without hope.
WHERE WE WORK
The World Federation of KSIMC is currently sponsoring seniors 105 seniors in Bihar, India.  Through your generosity, we hope to expand our support of seniors to other regions in an effort to alleviate poverty among the elderly in our global community.  
PLEASE DONATE:  WHAT A PERFECT WAY TO SHOW YOU CARE 
Seniors like Khatun Begum depend on some form of social assistance to make ends meet. Your donation can help relieve the struggles of poverty and bring peace of mind to an elderly person. The cost of sponsoring a senior in Bihar is as little as £10 (GBP) / $15 (USD) / $20 (CDN) per month.  Seniors may be sponsored with a monthly, yearly or one time donation. Most of these elders spend their monthly payments on basic essentials including food, clothing, physician expenses, prescriptions, or medical tests.
DONATE ONLINE:
In Europe, click here
Rest of the World, click here
JAMAAT TREASURER
Donate directly to your Jamaat Treasurer
For more information, please email [email protected]