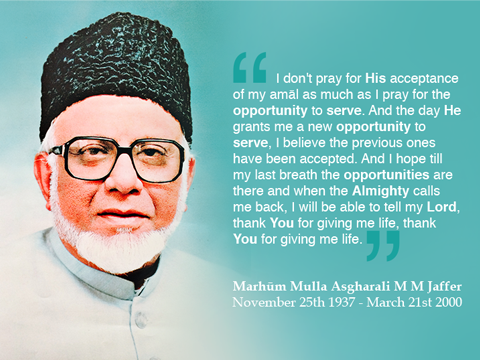 "Live amongst people in such a manner that if you die they weep over you and if you are alive they crave for your company" Imam Ali (AS)
On 21 March 2000 (14 Dhul Hijah 1420), the Khoja Shia Ithna Asheri Community worldwide mourned the passing away of Marhum Mulla Asgharali M M Jaffer, fondly known by many as Mullah Asghar or Mullah Saheb. Fifteen years on, the Community continues to remember him and the inspirational legacy that he left behind.

Marhum Mulla Asghar was born and educated in Mombasa and was fluent in over seven languages. Plain spoken, courageous and sincere, he was a visionary and an iconic leader who continuously and fearlessly sought to take the community out of its comfort zone, into one that was economically vibrant and spiritually strong. Marhum Mulla used his powerful oratory skills to convey the pristine messages of the Ahlul Bayt (as) to the global community in the different languages that he spoke. His Tableegh activities had no bounds and his books and lectures continue to be read and listened to today.

Marhum Mulla Asghar has left a legacy of service to humanity that is exemplary, and an inspiring example of resolute will to fight poverty, disease and ignorance. During his lifetime, he demonstrated that given Khulus and zeal anything could be achieved. He changed and touched the lives of many around the world.
Marhum Mulla Asghar was a driving force behind the establishment of The World Federation of KSIMC and from there he launched many initiatives to help the worldwide community. One of these initiatives was the Zainabiya Child Sponsorship Scheme, better known as ZCSS. This scheme supports a range of students from primary to higher education.  It has been running for more than 30 years now and has educated more than 25,000 students in countries including India, Pakistan, Bangladesh, Sri Lanka, Kenya and Tanzania. The ethos of ZCSS is to create a generation of skilled individuals who will strive together to uplift their communities out of poverty.
He still continues to remain as an example to us at The World Federation. His frequent advice to all who worked with him remains true even today.
Dr Moledina, the President of The World Federation in remembering Marhum Mulla Asghar comments:
'As we mark the 15th anniversary since Marhum Mulla Saheb passed away, I reflect on the legacy that he left behind. He was a leader, worker, preacher, scholar and above all a mentor to so many around him.  
Marhum Mulla Saheb changed the lives of so many through the various initiatives he began and I am honoured to have the opportunity to continue his great work.  Although it is impossible to fit into the shoes of Marhum Mulla Saheb, we strive to continue the great work he began at The World Federation, despite the new challenges that we face in today's world.
I clearly remember the words of Marhum Mulla Saheb when he said 'Our community's heightened capacity to withstand the trying times and its zeal to serve, has provided a permanent motto to The World Federation of KSIMC and that is 'We exist to serve'.  This message continues to inspire me and my team at The World Federation to continue in our work today.
 We pray to Allah (swt) to grant tawfeeqaat to our community to continue with the great legacy that Marhum Mulla Asghar left behind, in cohesion and unity, and to uphold the great values that Marhum Mullah Saheb has instilled within us. Ameen'
Over the last few years, The World Federation has uploaded many of Marhum Mulla Asgar's lectures and will continue to do so over the coming months. Please click here to listen to his lectures on The World Federation youtube channel. 
The book, 'Relentless Endevours - Reflections on Mulla Asgarali M M Jaffer' by Al-Hajj Hassan Jaffer is also available at The WFShop.
For more information about the videos and books referred to in this article, please email [email protected]
Tributes from community members:

'As we recall the 15th death anniversary of Mulla Asgharali M. M. Jaffer who passed away in London on 21ST March, 2000, he is greatly remembered for the role he played in the establishment and development of the World Federation of K.S.I. Muslim Community.
This umbrella body today provides bonding linkage for this small Khoja community numbering less than 150,000 individuals scattered in over 40 countries across the globe as nationals of over 20 different States.
Anver Jalapuri, a well-known Urdu poet from India had once written:
Main akela hi chala tha jaanibe manzil,
Log saath aate gaye,
Caravan banta chala!
I started off alone on a journey towards my destination,
Soon people started joining in,
And we had full-fledged Caravan marching together!
The growth of the World Federation today is living testimony to the vision for which Mulla Asghar began his journey in 1975.'
Hassan bhai Jaffer
'I came to London from Dar-es-Salaam towards the end of 1995 so had the opportunity to spend approximately 4 years with Mulla Saheb. My parents were comfortable for me being in London as they knew Mulla was here and he would have an influence on me. I can only thank Allah(SWT) and my parents for this decision as I learnt a lot from him. Many things I agreed with, many decisions I didn't understand due to my lack of experience. As time has passed by, I now appreciate why he took those decisions.
Amongst many of his outstanding qualities was that he as a leader used to go out and look for people who needed help. He didn't wait for them to come to him and ask. As soon as he learnt of anyone's plight, he would immediately do whatever he could in his capacity to assist. Many did not even know who helped until after his death. This quality of his was exactly in line with the teachings of the Ahlulbayt.
Looking back at his life, in my opinion what made him the leader he was, was when he was imprisoned in Iraq. That brought out in him the best qualities as it had to many Leaders in the past. He used to narrate to us stories after Fajr Salaat during the Winter weekends at Stanmore. Many didn't see the daylight once they were in but the fact that he made it out, tells us that he had a divine role to play not only for the Khoja community but for the Shia Muslim community at large.
During his life he got a lot of criticism for his decisions but he kept on going and telling his colleagues "I take it as a Dua as my people don't appreciate what I am doing. They will realise once I have left this world". He spoke his mind and practised enjoining the good and forbidding the evil at all times keeping to the saying of Imam Ali(AS) that "For those who refused to side with any party, have forsaken religion and are of no use to infidelity also"
He was a unique leader and to get one like him is very difficult. We pray to the Almighty to give him the highest of stations in Paradise and that we are blessed with another leader like him. Ameen' 
Sajjad bhai Tejani
'To work with Mulla Saheb was like getting a dose of adrenaline every day! He was so charged up himself about getting on and doing good work for the community at large, that invariably, every time you spoke to him, he would pass on that energy and by the time the conversation was finished, you yourself would feel charged up and motivated! You felt that you were ready to take on the world!
Amongst the many lessons that I have learned from Mulla Saheb, there are some that I still cherish to his day:
The value of time. Mulla Saheb would get very irritated if time was being wasted.  He would say that every second of every day was full of opportunities and to waste time was unforgivable, especially as time was so short and none of us knew when our time would be up. Whenever a project was proposed, he would give time for discussion, but once a decision to proceed was made, then he was on a mission to get it started and completed! Procrastination was never tolerated !
The other lesson that I learnt from Mulla was that the money that was collected from the community, whether it was donation, sponsorship or khums was always a responsibility and never an opportunity! He was so careful about not wasting the money that collected that he would pay attention to every detail about how the money was spent. In ZCSS, he would himself go through the accounts that were submitted from the different agencies that we used to work with, after I had gone through them, and sometimes he would also involve the Secretary General to look at them as well. Even down to the office expenses in the WF office, we used to have a box in the ZCSS office to put our change in, whenever we had coffee in the office on Thursday evenings, when we used to meet! This quality of Marhum Mulla Saheb has always stayed with me as a reminder of how Community funds should be treated.
The third lesson that I always remember that Mulla Saheb taught me was, that whenever anyone came to you for help, it was always an opportunity for us to do good and to always treat that person with utmost respect. I have known many occasions when Mulla Saheb has taken time out of a busy schedule to give time to someone who turned up at the office to ask for help or assistance. No matter how urgent any other business was, Mulla would stop everything and give as much time as was needed to the needy person. I have known Mulla Saheb to sit with the very poor residents of Kareempur and cry with them, on listening about their poverty, (now there are houses built by The World Federation and a school that is taking students up to Grade 12 in Kareempur), and I have watched Mulla Saheb very distressed about the plight of children and adults in debt slavery in Avalcunda, (now there are many houses built in Avacunda by The World Federation and there is a school that is producing students who get places in the universities and for the past three years there have been graduates, who have been ex-debt slaves!). These are just some of the examples and there are so many many more that I can share. 
To write about the personality of Marhum Mulla Saheb with its many facets, in a small paragraph is indeed doing injustice to him. What I have tried to do is to just give an insight into how it was to work with Mulla Saheb and some of the things that mattered to him and what made him tick. This is for the benefit of my younger friends who did not know Mulla Saheb personally and to show them the standards that Marhum used to have and to aspire to reach those standards.
I always pray to Allah swt to bless our community with another leader and personality like Mulla Saheb, so that we may once again be the torch bearers that we were, and to always keep the memory and the material that Mulla Saheb has left behind with us as a reminder to us, that from amongst us, there was once a personality that reached the pinnacle of excellence, that Mulla Saheb had reached.
Mohammed bhai Visram
On the death anniversary of Marhum Mulla Asghar, we ask you all to remember him and all marhumeens in your prayers.