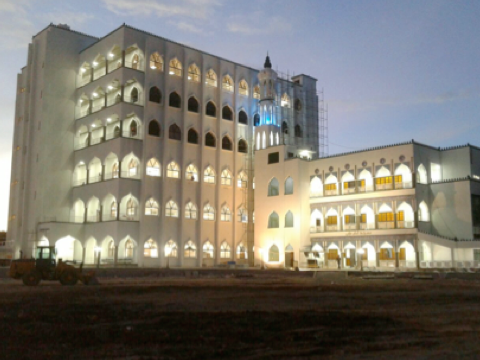 On the birth anniversary of our first Holy Imam, Imam Ali (AS), the new Jaffery Complex in Mombasa was opened.  This is a unique development that has facilities for religious, social and sporting activities in addition to residential and commercial units.
The opening ceremony of the Jaffery Complex coincided with the Africa Federation 76th Supreme Council Meeting hosted by Mombasa Jamaat. The opening ceremony was attended by approximately 1,500 people.
Among the large number of dignitaries from  Africa and other parts of the world who attended the function, included; the President of the World Federation, Dr. Asgharali Moledina, the Chairman of the Africa Federation, Al-Haj Anwarali Dharamsi, the Governor of Mombasa, the Governor of Lamu, the Senator of Mombasa and the MP of Mombasa.
The Jaffery Complex comprise of four main segments:
1. Religious Segment (Jaffery Islamic Centre)
This consists of:
Three storey mosque for ladies and gents;
Six Storey Imambargha Building, having three floors dedicated for  gents and ladies Imambargha;
Two floors for Madressah;
One floor Conference/multipurpose hall;
Alim's Residence; and
Gusalkhana.
2. Apartments:
This consists of 3 blocks of 40 apartments each with a total of 120 residential apartments available to the community members for ownership.
3. Jaffery Sports Club
This consists of a four storey building, consisting of a pavilion for cricket, indoor games, squash court and Gymnasium along with library, business centre and offices for various bodies of the Jamaat.
Sporting facilities also includes outdoor. Cricket/football fields, tennis courts and a volleyball court.
4. Commercial Tower
This consists of fourteen storey building comprising of floors with rental premises for banking and offices for doctors, laboratories, pharmacies etc., the rental income to be used for community purposes i.e. Education, health and economic upliftment, also for general community needs.
Al-Haj Aunali Khalfan, the Hon. Secretary of the Africa Federation after the event said: 'It was a very delightful and joyous occasion to have witnessed the wonderful opening ceremony of the Jaffery Islamic Centre of Mombasa Jamaat that coincided with the 76th Africa Federation Supreme Council Session and the auspicious occasion of the celebration of the birth anniversary of our first Imam, Imam Ali (AS) on 3rd May 2015. The occasion will go down in the history of the Africa Federation and the KSI Jamaat of Mombasa, being one of the magnanimous and unprecedented projects undertaken by a Jamaat in the recent times. On behalf of the Africa Federation and on behalf of all the Jamaats under Africa Federation, we congratulate the leadership and members of Mombasa Jamaat for undertaking this mammoth project and wish them every success to its completion – Ameen.'
We take a look at a number of photos of the new Jaffery Complex!