Dear Community Members,
Salaamun Alaykum.
Firstly, I would like to express my condolences to the Imam of our time and to you all this Muharram. I pray all of our amaals are accepted inshAllah. Let us use this beginning of a new year to become closer to Allah and to continue to work at bettering ourselves.
On Saturday 10th October 2015, the Fourth Executive Council meeting (EXCO) of The World Federation term 2014-17 took place in Toronto, Canada.  Attendees gathered from both within Canada and around the world.  Alhamdullilah, this was the first time in the history of The World Federation that the meeting was paperless – an initiative that not only worked towards reducing our carbon footprint, but also reduced substantial printing and admin effort and costs.
The meeting began with Quranic Reflections by Shaykh Kumail Rajani as well as welcome addresses from the President of ISIJ-Tronto, Br. Shabbir Jeraj, and the President of NASIMCO, Br. Gulamabbas Najafi.
In the World Federation President's address, Dr. Asgar Moledina thanked the ISIJ team and NASIMCO for their efforts in organising the meeting. He touched on some of the work he had personally been involved in over the last few months, including the Yemen Refugee crisis, visits to various Jamaats around the globe and his recent meeting with Ayatullah Sistani in Iraq.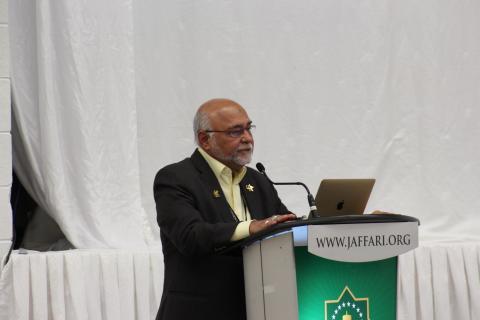 This year, there were two strategic initiatives that we worked towards; one was the work towards Shia engagement with academia and the second on how, as a community, we work on media and external relations.
Sayed Ammar provided more details on the Imam Ali Chair at Hartford Seminary and the work that had been done to date.  This will have a significant impact on how Shia Islam is not only taught in educational establishments but also how it is discussed in the media and written about by academics.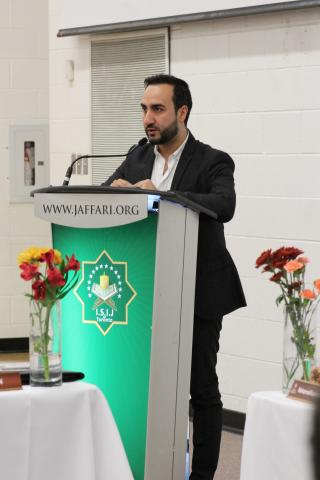 Brother Miqdaad's discussion on media and external relations touched on the current situation in the world and the role that Muslims must play.  He touched on the importance of external relations and how unity plays a key role in this issue.  He went on to say that it was important the Muslim community built relationships with the wider society in order to increase credibility. This can happen through engaging politically and making ourselves known in the wider public. It is intended inshAllah that more work will be done on this area over the course of the term through the media team.
The Yemen Crisis is a generational crisis in the history of The World Federation.  Councillor Shan-E-Abbas Hassam provided an update to all attendees through a video message followed by a question and answer session.  This was discussed at great length, with the focus being the progress that had been made to date to resettle the 456 members of the Khoja community who have moved from Yemen to Djibouti.  Alhamdullilah, a small number of these families have now been resettled elsewhere, including Pakistan, Iraq and Malaysia, while work is on-going for the remaining families.
In addition to the work being done in Yemen, The World Federation continues relief work in various countries for many different causes. For example, The Europe Refugee Crisis Appeal is one of our most current appeals where we worked with Council of European Jamaats and other partners to provide aid to the thousands of refugees who are coming into Europe from countries including Syria. This video was shown, which featured our volunteers in Greece who were assisting the refugees. Other updates with regard to International Relief and Development included the building of 130 water pumps in Pakistan, a mass-marriage programme, homes built in Pakistan and many more.
Sheikh Komail Rajani, head of Islamic Education, spoke about the incredibly successful Madinah and Bab courses, which had its highest turnout ever this year, mashAllah. The Shia Wills project is intended to provide a service to assist community members to make their wills in line with Islamic law. This is a project worked on by The World Federation, Councl of European Jamaats and Africa Federation. Future projects within the Islamic Education department include Islamic Ted-style Talks and Islamic learning e-courses with the view of increasing the depth of understanding of the madhab for our global community.
On Community Affairs, we explained focus of the term for Community Affairs would be on areas such as volunteerism, working on challenges facing marriageable men and women of the community, social challenges, and greater engagement with the community. Reza Hooda, Honorary Treasurer, spoke about two projects which are launching soon; the Khoja Business Directory, which connects Khoja businesses globally and the Khums App where people can calculate, keep track of, and pay their Khums obligations regularly.
Anisa Kanji spoke about how to better the communications and marketing through use of various social networks such as Instagram, Twitter, Facebook, and Snapchat as well as articles and published work. This includes the launch of a new website and a new marketing strategy which will be presented at the next meeting inshAllah.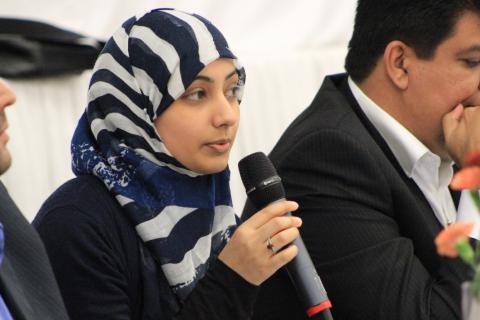 Naushad Mehrali, head of the Madressah centre of Excellence presented an update with regard to the new curriculum which is being created.  There is also greater focus on teacher training to ensure the people teaching the students are well equipped and qualified to do so. 179 teachers were trained from 9 programs and currently, work and evaluation is being done on the modules to better suit students as time goes on. Future endeavours include teaching guides for each lesson, incorporating apps and online tools and paperless initiatives for Madressa resources, as well as E-learning to cater to all students.
Reza Hooda presented a concise summary of the WF's income and expenditure for the year to date. Whilst overall income has increased to fund projects such as; Iraq for the displaced refugees, widows and orphans; needs for Syrian refugees in camps and around Europe; our community refugees from Yemen, a lot more is required to be able to meet the challenges and funding requirements of these noble causes. Furthermore he highlighted how our Khums funding has been in decline and urged councillors to encourage members from our community to channel their Khums monies via their jamaats to ultimately the WF. These Khums monies are then used to fund Islamic education projects such as the huge MCE programme that will transform our Madaris and education delivered to our children across our Global communities.
For future sustainability Reza Hooda advised that investments had been made of £1.5m from the foundation fund to generate income for funding the support costs of the organisation However more funding is required to the Foundation Fund to reach the target of £6m for full sustainability.
The day was overall very successful, greatly due to the incredible hard work from ISI Jamaat of Toronto. We are very grateful to all those involved for helping to make the events run smoothly. More pictures from the event can be seen on our website.
The meeting showcased a lot of the great work being done by the many people involved in The World Federation. We are working on many different projects in the future and are creating new and innovative ways to serve our community globally.
With Salaams and Duas,
Kumail Manji