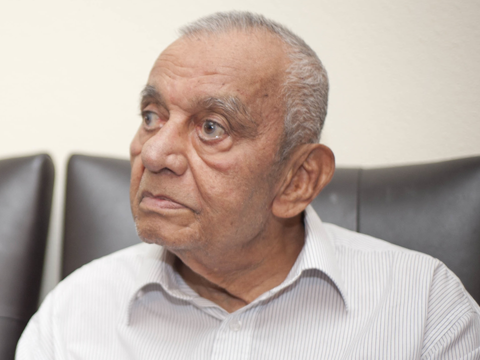 On Saturday 14th March 2015, The World Federation was saddened to hear the news that Al-Hajj Gulamabbas Janmohammad Hassam, the father of Dr Ahmed Hassam (former president of The World Federation), had passed away.
Marhum Gulamabbas Hassam was born on 5th May 1927 in Zanzibar and at the age of 19, married his wife, Fizzabai Nensi, with whom he shared 70 happy years. After moving to Gabba in Uganda, they raised seven children before moving to Gossau in Switzerland in 1972.  At this time, there was no Shia community in the area and Marhum Gulamabbas and his family became one of the founding members of the Shia ithna asheri community of Switzerland. Here, they started majlises in Muharram from their own home and as the community began to grow, Marhum Gulamabbas served as the President of the Jamaat for seven years.
In 1996, Marhum Gulamabbas and his family moved to Birmingham where they spent many happy years with the Jamaat at Mehfil-e-Abbas.
Marhum Gulamabbas passed away peacefully on the morning of the 14th of March 2015 in Pfäffikon, Zurich Switzerland, where friends and family laid him to rest. Marhum Gulamabbas was the father of seven children, nineteen grandchildren and four great grandchildren, all spread across the world.
Dr Moledina, President of The World Federation said:
'I was deeply saddened to hear about Marhum Gulamabbas. I pray to Allah (swt) to grant him a place in close proximity to the 14 masumeen and to give his family patience and strength during this difficult time.  Marhum Gulamabbas was an active member of the community, both in Switzerland and in Birmingham and his death will leave a void that will be difficult to fill.'
The family have thanked the community for their prayers and support during this difficult time.  In remembering Marhum Gulamabbas, they said:
'As the head of our family, his faith in Allah (swt) serves as a reminder to his grandchildren of how to persevere with patience; how to keep a family together with respect; and how to take the utmost pleasure in the simple things we are blessed with each day. Like all of his generation, he was forced to adapt to many challenges throughout his lifetime. As we face new challenges in a rapidly changing world, we seek to emulate the valuable lessons our respected elders have left behind. Keeping them always in our duas; we pray that Allah (swt) grants them peace in Jannah.

Many people around the world carry fond memories of our beloved husband, father, grandfather and brother, Marhum Gulamabbas, and the family would like to express our heartfelt thanks to all those who have sent messages of condolences and dua for him. In his last months, he remained a calm, content man, whose patience in bearing life's burdens continues to be an inspiration for the family he leaves
behind.'
To leave a message of condolence for Marhum Gulamabbas Janmohammad Hassam, please visit our News of Death page